Our beginners investing course is the complete class for those that want to learn to trade. This online stock market course combines the best of classroom theory to start learning trading with the best real-world, real-time stock market simulation.
This innovative approach makes it easy and fun to learn how to invest and gain real-world experience – without real-world risk.
Teachers – Get Investing101 For Your Whole Class For Only $195! Contact Our Team For Details!
You'll learn at your pace, when you want, where you want – and most importantly – you'll get to PRACTICE while you learn. So when you're ready, you'll be able to make your own investing decisions with confidence.
We have helped close to 25 MILLION PEOPLE deepen their understanding of investing and finance. Join a growing number of satisfied customers that have tried our course and loved it! Whether you're starting your first job or have been retired for years, it's never too late to start learning about how our course can change your life!
Whether you are starting your first career, looking for your first career or happily retired this class can you help you understand all the basics of finance and investing. Give yourself the gift of a great retirement for you and you loved ones by by taking control of your financial future.
"Our course is the most complete market trading course for beginners!"Use investing 101! if you want to start learning trading in the stock market.
10 information packed chapters will give you a solid foundation of investing knowledge.
Great tips from Mark Brookshire – Stock Trak founder, that he's learned from a lifetime of investing and financial experience.
You'll learn how the stock market works, what your trading options are, how to analyze opportunities, craft your own investment strategy and much, much more.
Each chapter includes exercises, quizzes and reading list suggestions to give you the knowledge you need to succeed.
Computer access allows you to learn from anywhere, anytime! Chapters are also organized so you quickly find any information your looking for.
Get immediate feedback on your progress with quizzes which allow you to deepen your understanding. You can even keep trying until your satisfied with your results!
PLUS, you can learn and practice at your OWN pace. Go as fast as you want or take as long as you want. YOU are in control!
Whether your investment goal is to make money right now or save for the future or both. We make it easy, fun and affordable to take control of your investing future.
Only $99
What you will learn

View Complete Course Syllabus
Understanding different investment choices – from Mutual Funds to FX trading.
How the stock market works and what makes it move – Bulls, Bears and Brokers.
Making your first trade – stock quotes and order types.
Building your $100,000 practice portfolio – risk, diversification and buying.
Now that I own it, when do I sell it? Exit strategies and stop loss orders.
Fundamental analysis – understanding earnings and cash flow.
Technical analysis – common charting terms and techniques.
Current Hot Topics in Trading – from Day trading to Arbitrage.
Introduction to Options – calls, puts and volatility.
Survivor's Guide to Success – developing YOUR strategy.
Make investing 101 in your future a priority. Taking our investment class will likely be the best investment you've ever made.
Beginners
UNLIMITED FREE access to our Stock Market practice simulator.
Only $99
Everything you need to start learning trading
UNLIMITED access to the INVESTING 101 course, exercises and quizzes.
Download the complete course content as a PDF eBook for future reference – a $39.99 value!
UNLIMITED access to our Stock Market practice simulator.
E-mail support from Mark Brookshire – Stock Trak founder, stock market educator and investor for over 20 years.
FREE 101 Stock Investing Tips eBook – a $19.99 value – just for trying INVESTING 101.
7 Day 100% Money Back Guarantee to ensure you are completely satisfied!
Only $99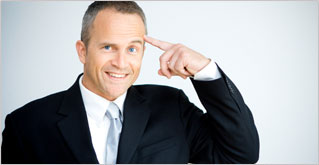 Not sure if you need INVESTING 101?
Find out! Take Our
Stock Market IQ test.
It's quick and FREE!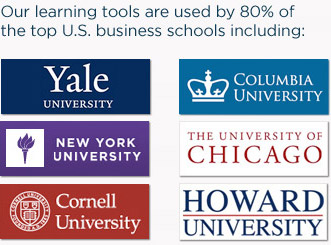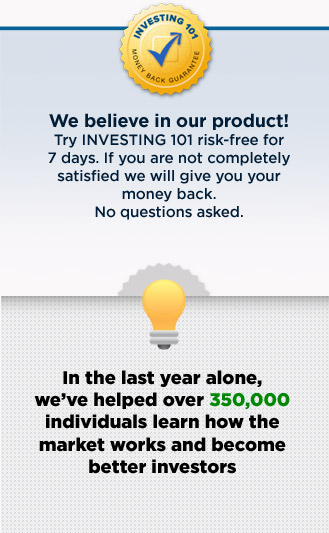 I had searched for a program that would allow me to make investments without risking real money. I came across your site and I knew at that moment that I had found exactly what I needed. Simulated trading of stocks, options, future options, bonds, mutual funds and spots sets it apart from all other portfolio simulators. There's nothing like it on the market, PERIOD!
I must admit that using INVESTING 101 has really increased my aptitude for trading stocks. It's an unbelievable stock market simulation that I highly recommend!
I think you have presented a very clear and thorough course for beginners. Thank you. It was worth the time I spent on this new venture.